.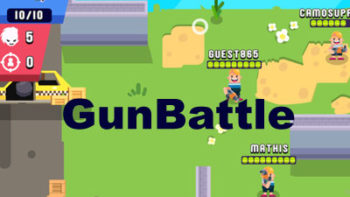 About GunBattle.io
Gun Battle is an arcade style battle royale shooter game with two different modes of play.
There are multiple modes of play and tons of ways to upgrade and customize your character, but you'll have to start winning. As you ply and win you will earn coins for getting kills and winning games. Each kill and win grants you a certain amount of coins. You will then use these victory coins coins to unlock new skins in the shop. Play Battle Royale mode or 3v3 Teams mode in this fun online shooting game. You can also copy the address to your game and invite friends for a more intimate and personal battle royale playing experience. Lock, load, and lets go with this fun, fast and high quality 3-D shooter. Whether youy're taking on an army of unknown soldiers from around the web via thegamesbuilt in MMO engine or inviting your best friends –and worst enemies?– you can be sure yohy'll be given the challenge of a lifetime when you sit down to play Gunbattle.io
Access to all GunBattle.io hacks and unblocked GunBattle.io mods on godmods.com. Free to Play GunBattle.io on godmods!. We advise you to visit godmods.com from time to time, because new hacks and mods or aimbots might be released for unblocked GunBattle.io.
Gunbattle.io is also a mobile game which you can play on your mobile device of choice. The conbtrol scheme will be diofferent depending on whether you are on desktop or Mobile but it is ultimately the same game. Now when you're on the bus, board at home or just away from desktop you cans till enjoy this game with strangerts or friends. Let's do this! GAunbattle.io is one fo the best 2-D shooters avasilbe for free right now and you'll regret not giving it a try!
How to Play / Game instructions If you are playing via desktop please use WASD or Arrow keys to move your characterThe mouse is used to both aim your reticule and also click to shoot.On Touch devices use the touch controls to move, aim gun and shoot. Play GunBattle.io Unblocked Game with hacks and mods.
The more wins your get the higher your level will be. Each new level unlocks new maps and new weapons. Keep grinding so that you can become one of the top players on the server.
.
.
LAST DOWNLOADS GunBattle.io MODS