,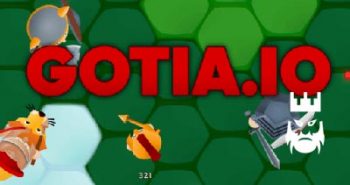 About Gotia.io
Gotia.io is a game where you are going to control a gladiator and attack your enemies with the spear you have.
Those who like player versus player games can play Gotia.io in their free times. There are two kinds of power-ups in the game. You can collect these from the map. These are the shield and horse or goat. These will provide you a great bonus when you fight with your opponents. In addition to this, you need to collect the balls on the map to not die fast. It is a fun game to play but keep in mind that it is also addictive.
We provide io games unblocked servers on our page. Players can download mods from our pages and you can also explore new io games. We share io games list where you can find all of the existing io games together with their mods and hacks. You can check out the right section of the list of the mods.
How to Play?
Your character will move automatically and all you need to do is provide direction with your mouse. Moreover, players can attack with the left click of their mouse.
Tips and Tricks
There are various power-ups on the map. Moreover, you need to collect them as soon as possible in order to not lose quickly. You can take a shield or ride a horse or goat. In addition to this, you need to collect as many balls as you can.
Balls will provide you protection. Furthermore, whenever your enemies will hit you with their spear, you will lose balls. The side who will run out of his balls will lose the game. You can see the amount of the balls you have collected under your Gotia.io character.
As godmods we provide Gotia.io hacks on our website. You can find the Gotia.io unblocked servers and download Gotia.io mods whenever you want.
.

ALL Gotia.io MODS