,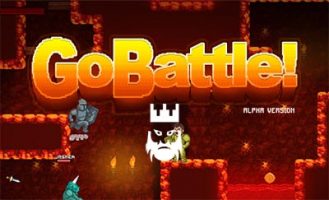 About GoBattle.io
GoBattle.io is a multiplayer game where you will try to eliminate your opponents by throwing knives.
If you like games with pixel graphics than you can play GoBattle.io in your free times. You will pick a character at the beginning of the game and then start playing it. You have to walk around the map and try to eliminate the players you encounter.
We share io games unblocked servers on our pages. If you want to access to hacks and play on moded servers, you can download them. In addition to this, we share io games list with our visitors. Thus, it is possible for you to explore new io games from our lists. You can also check our categories for more games.
How to Play?
You can move your character with WASD keys. You jump with W key and crouch with S key. Players do not have to use your mouse at all. You attack with the spacebar.
Tips and Tricks
In this GoBattle.io arcade game, you will be playing against real players. Players have to throw knives in order to kill their opponents. It is possible to jump twice when you are on the air. The game consists of different floors. It will be better for you in case you take covers in the gaps.
If you want to be successful than you should turn your back to the wall. In this way, you will only receive attacks from a single side. You have an unlimited ammo. This is why try to spam your attacking ability by pressing the spacebar continuously. Thus, you can kill opponents when you do not even see them.
As godmods we provide you the GoBattle.io mods on our pages. It is possible for you to have an access to GoBattle.io hacks through these GoBattle.io unblocked servers.
.

LAST DOWNLOADS GoBattle.io MODS