.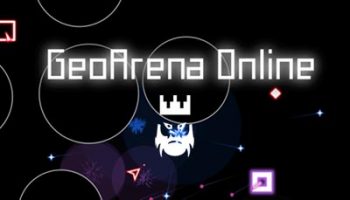 About GeoArena Online
GeoArena Online is an online battle game where you will compete against real opponents and use spaceships.
If you like space games then you can play GeoArena Online in your free times. You are going to control a spaceship in this game and try to eliminate your opponents by shooting them. There will be also other spaceships which are controlled by the game. You can eliminate them to earn experience and improve your ship as well.
We share io games unblocked servers on godmods website. It is possible for you to find mods for the io games you like. Also, in case you want to explore new io games then you can benefit from our io games list. You can also check out our categories as well.
How to Play?
Players have to provide directions to their ships with the help of WASD keys. It is possible for you to shoot with the left click of your mouse. You can use your special skill with the spacebar and level up your abilities with 1, 2, and 3 keys.
Tips and Tricks
This is one of the fast-paced games that you can play. Keep in mind that it takes time for you bullets to reach their destination. Thus, always try to aim the areas where your opponents will move when the bullets arrive them. This is the best way to kill your opponents.
Moreover, do not forget that you can customize your ship at the homepage of the game. You can choose different weapons, ships, and abilities to use. It will be better for you in case you will customize your ship in line with your gaming style in order to defeat your opponents in ranked games.
As godmods we provide GeoArena Online unblocked servers to our visitors. It is possible for you to download GeoArena Online mods and play the GeoArena Online game with GeoArena Online hacks.
.
.
LAST DOWNLOADS GeoArena Online MODS