.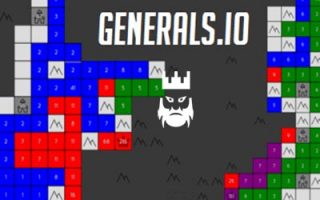 About Generals.io
Generals.io is a strategy game which has minimum graphics where you play on the tiles.
Those who like to play strategy games can play Generals.io in their free times. There are no graphics in this game. In fact, there is, however, it is very limited. You also have simple controls where you only need to use your mouse to move. You need to locate your opponent and attack him with your army to win the game.
If you are willing to explore new io games then you can check the io games list we have shared on our website. In addition to this, we also share io games unblocked servers with our visitors. You can find these mods on the right section of each article on the game page. All you need to do is click on them to download them.
How to Play?
All you need to use is your mouse in order to make your moves. But you can also move with WASD keys after you choose your target with the left click of your mouse.
How to Play?
You are going to have a certain number on your character. This is the amount of your army and it is possible to move with it on the map. You can either move with the entire army or leave some proportion of them in any tile.
You have to locate your enemy and then attack to capture him or her. Once you will capture the main tile of the enemy, you are going to win the game. You have to click for few times with the left click of your mouse in order to set the percentage of the army you will leave behind.
As godmods we offer Generals.io unblocked servers to our visitors. It is possible for you to download Generals.io mods and start playing the Generals.io game with Generals.io hacks.
.
.
LAST DOWNLOADS Generals.io MODS