.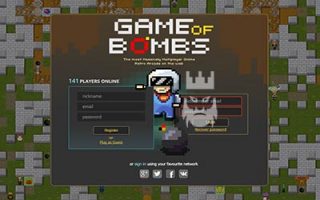 About Game of Bombs
Game of Bombs is the new version of traditional Bomberman game which is more fun than the original game.
In case you like retro games then you can play Game of Bombs in your free times. This is one of the great games that you can play from your browser. You are going to control a character which can place bombs and destroy the walls around it. Players have to find power-ups and try to eliminate each other with the fire of their bombs.
We offer you io games unblocked servers on our website. You can find different mods on these servers. Moreover, we share io games list in our categories where you can explore new io games and start playing them. There are hundreds of different io games which some of them can appeal your gaming taste. You will not feel any regret by trying some of these games.
How to Play?
You are going to provide directions to your character with the WASD keys. Also, you can place bombs with the spacebar. It is possible to throw balls by pressing the spacebar twice.
Tips and Tricks
The map of this game is huge and you need to compete with other players on the map. But instead of directly attacking them you need to collect power-ups. In this way, you are going to have additional features which will help you to eliminate your opponents.
When you start to play the game you will have to play the tutorial mode. You are going to learn all of the basics of the game in this mode. However, keep in mind that you need to practice some in order to compete with other players well.
godmods offer you Game of Bombs unblocked servers on its page. It is possible to download Game of Bombs mods and access different Game of Bombs hacks through the Game of Bombs game we share.
.
.
LAST DOWNLOADS Game of Bombs MODS