,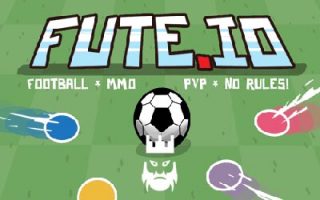 About Fute.io
Fute.io is a soccer game where the goal post is located in the middle of the map and you are alone against all players.
You can play Fute.io is an online soccer game where each player plays the game alone. This means that you should avoid other players on the map. You have to get the balls and bring them to the goal post in order to score. Each goal is equal to one score. You can also eliminate your opponents by sprinting towards them when they have the ball.
We would like to note that we share io games unblocked servers with your visitors. In case you are looking for mods for a specific game then you can visit its page. You are going to find the list of the mods on the right section of each article. In addition to this, we also share io games list with you where you can explore new io games and play them.
How to Play?
You need to provide directions to your character with your mouse. It is possible to speed up or kick the ball with the left click of your mouse.
Tips and Tricks
In this game, the goal posts are located in the middle of the map. You will find balls on the map where you need to go next to them to get them. After that, you can move the ball or kick it forward and then sprint to move faster.
You have to bring the ball to the goal post in order to score. Moreover each goal will provide you one score and you can find the scoreboard on the right top of the screen. Like in most of the io games your goal is to have the highest score on the map.
As godmods we offer Fute.io unblocked servers to our visitors. It is possible for you to download Fute.io mods and start playing the Fute.io game with Fute.io hacks.
.

LAST DOWNLOADS Fute.io MODS