,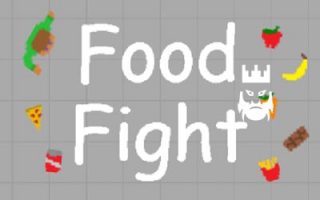 About FoodFight
FoodFight is a shooting game where you need to collect foods on the map and throw them to your opponents.
If you are looking for a fun game then you can play FoodFight in your free times. As it can be understood from its name, you are going to throw foods to your opponents. It is possible to find the foods on the map. Your goal is to eliminate the most players on the map and each kill is considered to be one point.
We would like to note that we share io games unblocked servers with our visitors. It is possible for you to find the mod list of the game in the right section of the articles. Also, we have shared io games list on our website. This is a great opportunity for those who are willing to explore new io games to play.
How to Play?
You have to provide directions to your character with the WASD keys. You can shoot with the left click of your mouse if you have a food in your hands. Players can speed up with the right click of their mouse.
Tips and Tricks
You are not able to save foods in your hand to throw. If you already have a food in your hand then there is no need to collect more. You need to collect the foods after you throw them and when your hands are empty.
In addition to this, it will be good for you to stay in places where are abundant in foods. In this way, you can have more ammo to throw. Thus, you can easily eliminate your opponents. It is also possible to see the locations of your opponents on the map.
As godmods we provide FoodFight unblocked servers to our visitors. If you want to play the FoodFight game with FoodFight hacks then all you need to do is download FoodFight mods.
.

LAST DOWNLOADS FoodFight MODS