,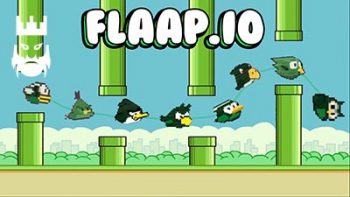 About Flaap.io
Flaap.io is the io game version of once famous Flappy Bird application where you can have good times.
If you used to like Flappy Bird then you can play Flaap.io with fun. This is the io game version of Flappy Bird with pixel graphics. There will be other players on the map where you will compete with each other. Your goal is to travel the longest distance without losing the game.
In case you want to explore new io games then you can check out our io games list. You can also click on our categories in order to learn new io games starting with that number or letter. In addition to this, you can find io games unblocked servers on our pages. These will allow you to download mods for that io games.
How to Play?
The bird you control will fly automatically to the forward. You need to click on the left button of the mouse in order to let your flap his wings.
Tips and Tricks
If you want to be successful in this game then you should pay attention to the bottom of your bird. Click on the left button of the mouse when you are about the crash. If you do so, you can progress in the game more. Of course, it will take some time to get used to the game.
Keep in mind that you will be playing against other Flaap.io players. You can see their ghosts on your screen as well. Your goal is to progress as much as you can. It is one of the funniest games that you can play as an io game. You should avoid hitting the obstacles in order to not lose the game.
As godmods we provide Flaap.io hacks to our visitors. Thus, we share Flaap.io unblocked servers in the right section where you can download Flaap.io mods.
.

LAST DOWNLOADS Flaap.io MODS