,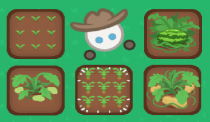 About Farmerz.io
Farmerz.io is an io strategy game where you grow your crops.
Grow your crops, and then sell it to Merchant to earn more money. Then, use that money to buy more crops! Build your farming empire in Farmerz.io!  Farmerz.io is one of the interesting io games. Access to all Farmerz.io hacks and unblocked Farmerz.io mods on godmods.com
How to Play Farmerz.io
use WASD to move. First, place "Plot" on the ground, then plant your crop on it by choosing a crop (initially, you're given with a carrot), and then by pressing left-click. It takes a few seconds for your crop to be ready to be harvested. Once your crop's ready, harvest it by pressing "H" key, then bring it to the Merchant, and sell it by using Left-click. This will earn you more money to buy more crops!
Farmerz.io Strategy
Use fertilizer and water to speed up your crop growth! Position your plots wisely, so it's close to both Merchant and water source
.

LAST DOWNLOADS Farmerz.io MODS