,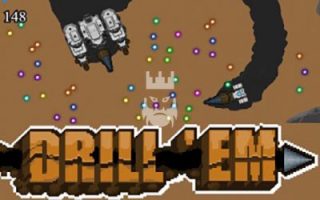 About Drillem.io
Drillem.io is a classic io game where you have to collect sources and eliminate your opponents.
In case you like to play classic io games then you can play Drillem.io in your free times. Unlike the other games, you are going to control a driller in this game. Yes, you heard us right! You are going to be a driller in this game and try to collect the score on the map. In addition to these, there is also leveling concept in the game. You can see a bar at the bottom of the screen which will increase gradually as you collect the orbs on the map. Once it reaches its limits, you can level up and improve one of your five attributes.
In addition to these, we also share io games unblocked servers on our page. It is possible for you to find the list of the mods for a specific io game on the right section of its article. You can also check out our io games list in order to explore new io games to play. Needless to say, you can always check our categories to find games starting with that letter.
How to Play?
All you have to do is providing directions to your driller with the help of your mouse. You can use the left click of the mouse in order to move faster and spacebar in order to lay a mine which will explode after a certain time.
Tips and Tricks
In case you have played other io games before then you do not have to worry. The same concept applies in here as well where you have to collect the most score and eliminate most of your enemies when you can.
It will be a good idea to attack your opponents when you level up enough. Try to maximize your turns and damage as quickly as possible since both of these features will have a vital importance in your success in the game.
As godmods we offer Drillem.io unblocked servers to our visitors. It is possible for you to download Drillem.io mods and start playing the Drillem.io game with Drillem.io hacks.
.

LAST DOWNLOADS Drillem.io MODS