.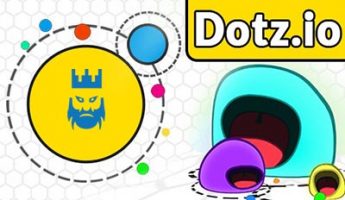 About Dotz.io
Dotz.io is a highly addictive game where you will control a ball and try to eliminate other players by swallowing them.
Those who like addictive games can play Dotz.io. It is one of the addictive io games where you will try to collect the balls on the map. In addition to this, you can eliminate other players by swallowing them. Moreover, the game has a leveling concept which allows low-level players to beat high-level players. You will love the concept of this game.
Moreover, we share io games unblocked servers on our pages. Those who would like to play on private servers can benefit from these servers. Moreover, if you want to explore new io games, then you can check out the io games list we have shared with our visitors. Thus, you can also click on the categories in order to find games starting with those letters or numbers.
How to Play?
Your ball moves automatically and all you have to do is provide direction with your mouse. In addition to this, you can speed up by using the left click of your mouse.
Tips and Tricks
This is a game where every player can swallow each other. Your ball has a level and you can level up by swallowing other players or collecting the balls on the map. The size of your ball will increase in line with your level progression.
Keep in mind that bigger balls can move faster and you have a limited amount of boost. Thus, your boost will reset each time you level up. But it will be good for you in case you will not use your boost in the first levels. Because players can earn extra score when they have a full boost when they level up.
As godmods we provide Dotz.io unblocked servers to our visitors. You can download Dotz.io mods and start playing the Dotz.io game with Dotz.io hacks.
.
.
LAST DOWNLOADS Dotz.io MODS