,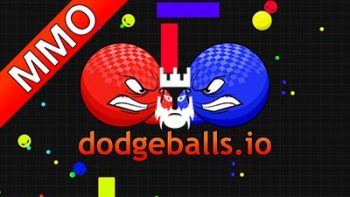 About Dodgeballs.io
Dodgeballs.io is a typical io game where you need to collect balls and throw them to your enemies to eliminate them.
Those who are looking for an addictive game can play Dodgeballs.io in their free times. You will control a ball in this game. Your ball can shoot smaller balls to eliminate your opponents. It is one of the funniest games that you can play.
We also share io games unblocked servers on our page. You can download the mods and play new io games with hacks whenever you want. In addition to this, we share io games list on our website where you can learn newly launched io games.
How to Play?
Your ball moves automatically and you need to provide direction to it with your mouse. You can shoot balls with the left click of your mouse. Players can speed up with the Q button. You can also power up your ball with 1, 2, and 3 buttons as you level up.
Tips and Tricks
You will control a ball and you need to collect balls to throw to your enemies. When you will hit them with the balls you throw they will be eliminated. Keep in mind that you can only shoot the balls you collect. Thus, it will be good for you to collect as many balls as you can.
In addition to this, you earn experience by collecting balls on the Dodgeballs.io map. You earn a point each time you level up and you can spend this on your abilities to move faster, throw faster or increase your size. There are some areas where you can't move on them but your balls can penetrate.
godmods offer you Dodgeballs.io mods on this page. If you want to access Dodgeballs.io hacks then all you need to do is download Dodgeballs.io unblocked servers.
.

LAST DOWNLOADS Dodgeballs.io MODS