.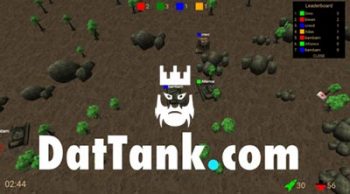 About DatTank
DatTank is a tank game where you are going to battle in teams in order to bring victory to your team.
Those who enjoy tank games can play DatTank in their free times. You are going to be a member of a team and try to destroy your opponents. One of the best features of this game is the fact that it is 3D. You will be playing in a realistic environment and may not see too far due to the fog. We bet, you are going to love to play this game in your free times.
godmods provide you almost all io games unblocked servers on its pages. If you want to download mods then you can find them in the right section of each article. In addition to this, we also share io games list on our website where you can find new io games to play.
How to Play?
You need to move your tank with WASD keys. In addition to this, you can shoot with the left click of your mouse.
Tips and Tricks
There are some fixed stations which shoot enemies next to close players. You need to capture them by shooting and decreasing their health to zero. After that, they will have full health and will belong to your team. This means that they will not attack you or your team.
You have to shoot and destroy your opponents in this game. Moreover it is possible to see the color of their team next to their hand. Each time you will destroy your enemies, they will drop health kit and ammo kit. You need to collect them in order to increase your survival time.
As godmods we provide DatTank unblocked servers to our visitors. It is possible for you to download DatTank mods and start playing the DatTank game with DatTank hacks.
.
.
LAST DOWNLOADS DatTank MODS