.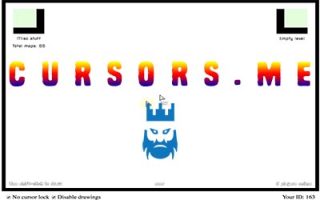 About Cursors.me
Cursors.me is an interesting application which is considered as a game. You are going to paint in this game.
Those who are looking for a way to spend some time can play Cursors.me This application is classified as a game, however, we would like to note that there is no progression or competition in the application. You will have a toolbar on the left of the screen. You can use this toolbar in order to create images on the map or color the pixels. We believe that you can have some good time by engaging in this application.
We would like to note that we share io games unblocked servers on our pages. It is possible for you to find mods for all io games in case they exist. You can check the right section of each article to find these mod lists. You can also check out our io games list in order to find out new io games that you can play.
How to Play?
All you need to do is using your mouse in order to spend time in this game/application. You can find the toolbar in the left section of the screen.
Tips and Tricks
In fact, we do not have too much to say in this application. It is considered as a game, however, there is no competition or progression in the game. You are going to paint the pixels in order to create images.
However, the main difference is you are not going to be alone in this Cursors.me game. There are other players as well. Perhaps you may want to collaborate with the other players in order to create the image you desire fast. Try not to spoil the fun of other players.
As godmods we offer Cursors.me unblocked servers to our visitors. If you are willing to take the advantage of different Cursors.me hacks then you can download Cursors.me mods.
.
.
LAST DOWNLOADS Cursors.me MODS