,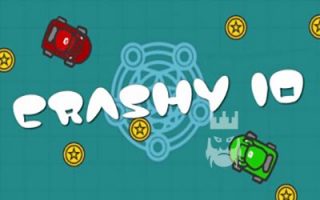 About Crashy.io
Crashy.io is a super fun game where you are going to drive cars and crash each other to eliminate players.
In case you like to play competitive games then you can play Crashy.io in your free times. This game is quite fun to play and we want to warn you that it is quite addictive as well. You are going to drive a car with a specific color you are going to choose. You have to collect the golds on the map in order to increase your size and damage. Players have to go fast and then crash other players from the sides in order to damage and even eliminate them. You are going to love this game.
In case you are willing to explore new io games then we have some good news for you! You can check out our io games list in order to learn the new games. In addition to this, we also share io games unblocked servers on our pages. Thus, you can have an access to different io games hacks.
How to Play?
You are controlling your vehicle with the help of your mouse. In addition to this, you can use the spacebar in order to go faster.
Tips and Tricks
Do not focus on killing other players by crashing them. Instead of this, you need to collect the golds on the map in order to increase your size. When you do so, your damage will increase as well and you can kill more players.
There are also crates on the map. You have to crash them twice in order to break them and you will bounce back in your first crash. You are going to find a bunch of golds in these crates and they will boost your speed as you collect them.
As godmods we provide Crashy.io mods to our visitors. In case you want to play the Crashy.io game with Crashy.io hacks then you can start playing it on Crashy.io unblocked servers.
.

LAST DOWNLOADS Crashy.io MODS