,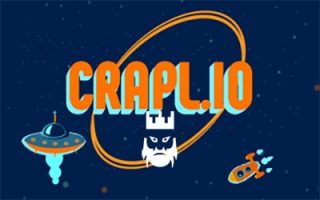 About Crapl.io
Crapl.io is a skill game where you are going to control a small planet and try to eliminate other planets.
Those who like fun games can play Crapl.io in their free times. You are going to control a small planet in this game. Your mission is to collect the stars on the map, each time you will collect them a bar will be filled at the bottom of your screen. When it will be fully filled you will earn a satellite. You have to hit your opponents which these satellites in order to eliminate them. When you do so, your satellite will disappear as well.
In case you want to explore new io games then you can check our io games list. You can visit our categories in order to find games starting with those letters or numbers. In addition to this, if you want to play io games with mods, we provide io games unblocked servers on our website.
How to Play?
Players are going to provide directions to their planet with the help of your mouse. It is also possible to move faster with the left click of your mouse.
Tips and Tricks
Your goal is to reach the highest score but any player is able to kill other players. You should focus on creating satellites around you since these are the only way to kill your opponents. When they hit to your opponents, they will be eliminated.
But at the same time, your satellite will be eliminated as well. After that, you should collect the stars quickly in order to create more satellites. The more satellites mean better attack and defense. This is why you should pay attention to them.
As godmods we provide Crapl.io unblocked servers to our visitors. It is possible for you to download Crapl.io mods and play the Crapl.io game with Crapl.io hacks.
.

LAST DOWNLOADS Crapl.io MODS