,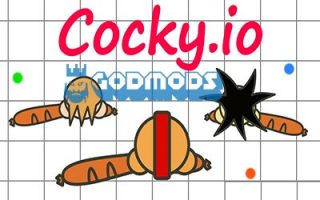 About Cocky.io
Cocky.io is a fun skill game where you will try to eliminate your opponents with the stick you own.
In case you like to play skill games then you can play Cocky.io in your free times. You are going to control a character which holds a stick in his hands. Each player will try to eliminate other opponents in order to earn score. It is not possible for you to extend your stick, your character will only hold it in his hands which means that the stick is fixed to your character. Players need to act quickly in order to eliminate more opponents. For example, you may have to turn around yourself in order to surprise your opponents and eliminate them when they do not expect it.
godmods offer you io games unblocked servers on its pages. If you want to download mods for io games then all you have to do is visit their pages. You can find the mods in the right section of each article. In case you want to explore new io games to play then you can also check out our io games list to find out more.
How to Play?
You are going to provide directions to your character with the help of your mouse. You can speed up with the left click of your mouse and your character will move to left slightly when you click on the spacebar.
Tips and Tricks
Like in most of the other io games you have to be patient in order to be successful in this game. There are many players for you to eliminate. This means that you can do enough practice in order to reach the higher scores.
You have to hit your opponents with the stick you hold. The best way to eliminate your opponents is to turn around yourself and directly attack them by speeding up. In this way, you can eliminate them when they do not expect it.
As godmods we share Cocky.io unblocked servers with you on our page. It is possible for you to download Cocky.io mods and play the Cocky.io game with Cocky.io hacks.
.

LAST DOWNLOADS Cocky.io MODS