,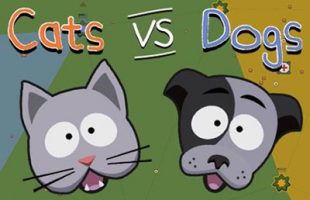 About CatsVsDogs.io
You can play CatsVsDogs.io which is another io game with a different concept.
This time you will have to choose your side on CatsVsDogs.io. You can either choose the cats' side or dogs' side. The game has the zone control concept. There are various zones you need to control and two teams will compete with each other for this.
The customization is limited when compared to other io games. But you can be sure that you will have plenty of fun in this game. We would like to warn you that this game is the most addictive io game that you can play. You can also play the game on unblocked servers which are also known as private servers. Keep in mind that you can download the CatsVsDogs.io mods from our mod list which we have shared in the right section of this article.

How to Play?
You can move with WASD or arrow keys. You can perform the attack with the left click of the mouse. Players also can dash with the right click of the mouse.
Tips and Tricks
There are certain points on the map. When you destroy them by attacking, you will control the area. Try to stay close to your team. In this way, many of your opponents will not bother you by attacking.
Do not try to kill other players a lot. This is a zone control game. You need to control as much as area as you can. You can also collect the foods on the map.
When you will fight with your opponents, you will lose your score but you will earn gold when you eliminate them. Try to have at least 200 scores before you fight with someone.
As God Mods we provide you a list of CatsVsDogs.io mods. You can download mods and play the game with various CatsVsDogs.io hacks.
.

LAST DOWNLOADS CatsVsDogs.io MODS