.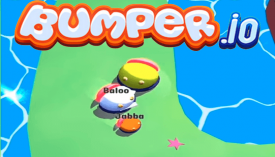 About Bumper.io
Fight players from all over the world in the newly released Bumper.io.
Bumper.io is one of the interesting io games. Access to all Bumper.io hacks and unblocked Bumper.io mods on godmods.com. In front of you there is a small arena in the middle of the ocean. Your main goal is to knock other players off the level. It's a lot of fun. Enjoy and share the experience with your friends!
How to Play Bumper.io
The game controlled using a mouse.
Bumper.io Strategy
You need to push the others off the stage while avoiding getting hit yourself. If you get knocked out the game will be over. Piece of advice: every player in Bumper io has a big red button. If you manage to hit that button on your enemy, the force of the impact will be much bigger. Aim at the red parts and become the king of the island 🙂
.
.
LAST DOWNLOADS Bumper.io MODS