.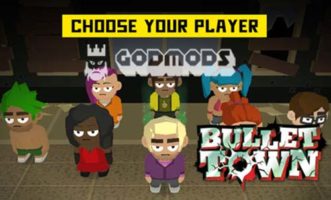 About Bullet.town
Bullet.town is a 2D shooter io game where you must compete to become the Mayor of this town.
Access to all Bullet.town hacks and unblocked Bullet.town mods on godmods.com. Free to Play Bullet.town on godmods!. We advise you to visit godmods.com from time to time, because new hacks and mods or aimbots might be released for unblocked Bullet.town. Blast your opponents and collect the cash to become Mayor! Join an all-out multiplayer gun-blazing showdown for cash and notoriety.
Shoot up everything in sight and fight off the citizens of Bullet Town in an epic online multiplayer battle to collect $3000 and become Mayor! A fresh take on capture-the-flag style games with multiple arenas to play in, players fight to carry a money bag back to their vault while avoiding the onslaught of bullets from their opponents. With multiple weapon types, quick rounds, and tonnes of action, Bullet Town is a blast!
Game Controls:
WASD moves your Character, Left Mouse shoots, right mouse button picks up / puts down items.
Play Bullet.town with Unblocked Aimbot, Mods and Hacks features. Also You can download All Bullet.town Aimbot, scripts, hacks and all mods on godmods.com
.
.
LAST DOWNLOADS Bullet.town MODS