,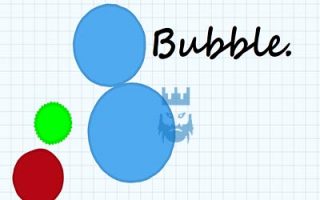 About Bubble.am
Bubble.am is a game which is similar to agar.io however you can move faster in this game.
In case you like to play regular io games then you can play Bubble.am in your free times. This game is very similar to the agar.io game however unlike the original game, your ball moves faster in this game. In addition to this, the camera will zoom out automatically when you increase your score but not mass. It is possible to have too much fun in this game due to its speed. You can increase your score quickly however it will be worth to note that all players develop their balls fast like you. It is a quite competitive game that you should give a try at least once.
We also share io games unblocked servers on our pages. It is possible for you to download mods for the io games you like through our page. If you want to explore new io games then you can check out our io games list we have shared on our website.
How to Play?
You are going to control the directions of your ball with the help of your mouse. In addition to this, players can split up by pressing the spacebar key.
Tips and Tricks
This is a fast-paced io game where you are going to control a ball and try to eliminate your opponents. It is a fact that you have to increase your mass in order to swallow other players and eliminate them.
Players should collect the orbs on the map in order to increase their size. In order to do this quickly, it will be a good idea to split up. In this way, you are going to move faster and cover a great space on the map to collect the orbs.
As godmods we provide Bubble.am unblocked servers to our visitors. It is possible for you to download Bubble.am mods and play the Bubble.am game with Bubble.am hacks.
.

LAST DOWNLOADS Bubble.am MODS