.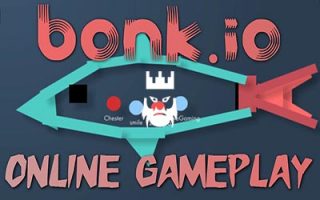 About Bonk.io
Bonk.io is a skill game where you are going to play with other 3 players and try to complete the objectives on the map.
Those who enjoy playing skill games can play Bonk.io in their free times. Also you are going to control a ball in this game and play on random maps with other players. Your goal is to stay on the map as the last ball in order to win that round. Each map will take 30 seconds at most and this is why you will never get bored by playing the game. Needless to say, this game is highly addictive and we recommend you to play it.
We share io games unblocked servers on our pages. You can download the mods from these lists. If you want to explore new io games then you can also check out our io games list in order to learn the new games. You can also visit our categories in order to learn the games starting with those letters and numbers.
How to Play?
You need to provide directions to your ball with the WASD keys on your keyboard. In addition to this, you can make your ball heavier by pressing the X key.
Tips and Tricks
Each of the maps has different goals that you have to accomplish. You will play on these maps randomly and the player who will stand on the map as the last ball will win that round. You can make streaks in order to earn more score.
In addition to these, you are going to play with other three players online. It is possible for you to push the other balls into the areas where they will lose the game. In fact, your goal will be this on some of the maps while you may to stay in the circle to win as well.
As godmods we provide Bonk.io unblocked servers on our pages. You can find new Bonk.io mods from our page and start playing the Bonk.io game with Bonk.io hacks.
.
ALL Bonk.io MODS