.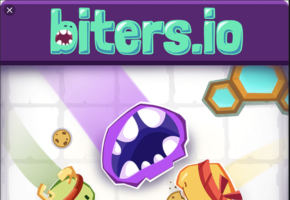 About Biters.io
Biters.io is a funny-themed io game where your objective is to bite and eat to win the game. Check out the brand new game with unique concept by Clown Games!
Bite others to defeat your enemies! Eat cookies to grow and heal! Don't become thirsty to run away from your enemies! Biters.io is one of the interesting io games. Access to all Biters.io hacks and unblocked Biters.io mods on godmods.com. Free to Play Biters.io on godmods!. We advise you to visit godmods.com from time to time, because new hacks and mods or aimbots might be released for unblocked Biters.io.
Can you become the biggest biter?
How to Play Biters.io
Control your character with the mouse and use space bar or the left click of the mouse to bite your enemies. You can dash and bite by using the right click of the mouse or pressing W. Drink water to fill your stamina for dashing.
Biters.io Strategy
Bite as many players as possible to become the winner. Dash to run away from your enemies. Drink water to dash whenever you want.
.
.
LAST DOWNLOADS Biters.io MODS