,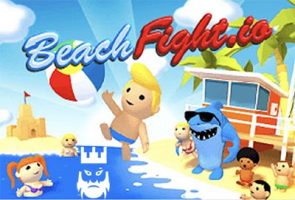 About Beachfight.io
Beachfight.io is a shooting game where you will be on the beach and shoot beach balls to other players.
If you like action and shooting games then you can play Beachfight.io. Each player has a limited health and those who will run out of their health will be eliminated. You need to shoot beach balls to other players to damage them. Be aware of the shark and avoid shooting him with your balls.
If you want to explore new io games then you are in the right place. You can learn new games from our io games list and also you can check our categories in order to find games starting with that letter or number. Players can also find io games unblocked servers on our pages where they can download new mods and play with hacks.
How to Play?
You need to control your character with WASD keys. In addition to this players can shoot beach balls to each other with the left click of their mouse.
Tips and Tricks
There is a shark on the map which can walk. Try to avoid attacking this shark with your balls. Because it will chase the last player who hit him with the balls. You can take the advantage of this shark in fights by avoiding to shooting him. In this way, your enemies will have to both avoid your balls and shark.
There are a small barracks on the center of the Beachfight.io map. You can go there if you want to fight with more players. However be sure to not be in the middle of the fight. It is possible to spam your balls by continuously clicking on the left button of the mouse.
As godmods we offer Beachfight.io hacks to our visitors. You can download the Beachfight.io mods from the Beachfight.io unblocked server list we share in the right section.
.

LAST DOWNLOADS Beachfight.io MODS