,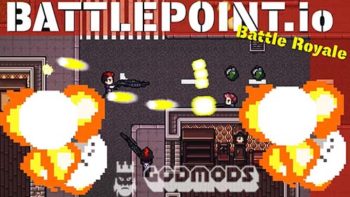 About Battlepoint.io
Battlepoint io is a battle royale mode of Nightpoint io made by Šarūnas Visockas.
Access to all Battlepoint.io hacks and unblocked Battlepoint.io mods on godmods.com. Free to Play Battlepoint.io on godmods!. We advise you to visit godmods.com from time to time, because new hacks and mods or aimbots might be released for unblocked Battlepoint.io. Wait for opponents, pick up a gun and begin your survival story.
How to Play
Your goal in Battlepoint io is to stay the last one survived. The game has a timer and as it's time is out the game will become tough and more interesting as well 🙂 Select a skin on beginning screen (share the game in social networks to unlock more skins).
Controls
Move with mouse, Shoot with a click, G to throw grenade, E to pick up item, Click an aid kit to use it. Right click an item to drop it.
.

LAST DOWNLOADS Battlepoint.io MODS