,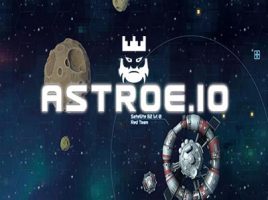 About Astroe.io
Astroe.io is a space game where you need to claim satellites and earn gold by destroying the meteors.
If you like space games then you can play Astroe.io in your free times. You are going to control a spaceship in this game. You need to destroy meteors in order to earn gold. Then you can spend these golds to improve your ship. You must claim all of the satellites on the map to win.
You can also find io games unblocked servers on our pages. Players can find these mods in the right section of each article. In case you want to explore new io games then you can check out the io games list we have shared on our website too.
How to Play?
You will move your spaceship with the WASD keys. In addition to this, you can use an unlimited boost with the right click of your mouse. You can also attack with the left click of your mouse. You can improve your skills with the numbers on your keyboard.
Tips and Tricks
Keep in mind that you will be playing in teams. Your goal is to claim the satellites on behalf of your team. In order to do so, you need to destroy those satellites by shooting them. However, you should note that it is not that much easy as it sounds.
You need to destroy the meteors in order to earn gold. When you earn gold, you can improve the abilities of your spaceship. It will be better for you to attack bigger meteors since they provide more gold when you destroy them. But keep in mind that it will also take longer to destroy them.
As godmods we provide Astroe.io unblocked servers to our visitors. You can download Astroe.io mods from our page and start playing the Astroe.io game with Astroe.io hacks.
.

LAST DOWNLOADS Astroe.io MODS