.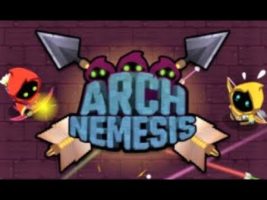 About Archnemesis.io
Archnemesis.io is a fast paced, arcade free browser based game.
Access to all Archnemesis.io hacks and unblocked Archnemesis.io mods on godmods.com. Free to Play Archnemesis.io on godmods!. We advise you to visit godmods.com from time to time, because new hacks and mods or aimbots might be released for unblocked Archnemesis.io.
Use power-ups find arrows hit your opponent and be the nest player in your group. Play Archnemesis.io Unblocked Game with hacks and mods.
How to Play Archnemesis.io
W – Move forward
S – Move Back
A – Move Left
D – Move Right
E – Pick up/ Swap power up
Mouse – to look around
Left Click – to start power up. Lift to Fire
Right click – to open emoji. Lift to select emoji
Private Game
If you want to set up a tournament or just a private game with friends use private game. It will generate a link that you can share with your friends and they will hoop in to the lobby or game.
Quick Match
If you want to just play the game select quick match and match with people who are looking for a game as well. The room limits right now is maxed at 10.
.
.
LAST DOWNLOADS Archnemesis.io MODS