,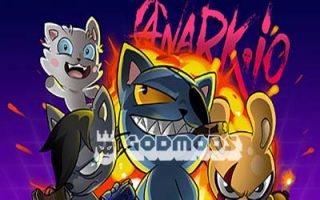 About Anark.io
Anark.io is a shooting game where you are going to control a cute cat and try to eliminate the bugs and other players.
In case you like to play shooting games then you can play Anark.io in your free times. We believe that you are going to love this fast-paced shooting game. Players will be controlling cats and they are able to shoot around with the weapons they own. It is possible for you to aim the crates and destroy them. You are going to find gold and different weapons to use. It will be enough for you to walk over these weapons in order to get and start using them. There is also a bank in the game where you can deposit your gold before you will be eliminated by other players.
Moreover, godmods also shares io games list on its website. It is possible for you to learn more about new io games through this list. In addition to this, we also share io games unblocked servers on our pages. Thus, you can find these mods in the right section of each article and easily access io games hacks.
How to Play?
You have to use the WASD keys on your keyboard in order to move with your cat. In addition to this, you will be shooting and making selections with the left click of the mouse.
Tips and Tricks
This is a fast-paced shooting game where you have to take quick decisions. There are various weapons that you can choose. Once you find the best weapon for yourself, try not to switch between the weapons for the maximum efficiency.
Gold matters a lot in this game. It will determine your score as well. This is why do not forget to deposit your gold once you collect too much of it. Otherwise, you are going to lose all of your gold once you will be eliminated by other players.
godmods offer you Anark.io unblocked servers on its page. It is possible to download Anark.io mods and play the Anark.io game with different Anark.io hacks.
.

LAST DOWNLOADS Anark.io MODS