,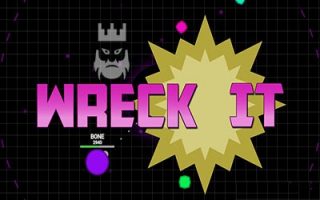 About Wreckit.io
Wreckit.io is a challenging skill game which can make you mad and if you can't stand to challenging games, you should not try this game.
Those who like to play difficult games can play Wreckit.io in their free times. You are going to control a colored ball with a swing on it and try to eliminate the other players. It is possible to swing it whenever you want. The swing should touch your enemies in order to eliminate them. In the same way, you should avoid from the swing of your opponents in order to not lose the game. We believe that you are going to have too much fun once you get used to the game.
In the event that you want to explore new io games then you can check the io games list that we have shared on our website. In addition to this, you can download mods thanks to the io games unblocked servers we have shared. You can also visit the categories in order to find games starting with that letter.
How to Play?
You are going to provide directions to your ball with the help of your mouse. In addition to this, you can pull your swing to yourself by clicking on the left click of the mouse.
Tips and Tricks
You have to get used to the game in order to start having fun. This is why we highly advise you to practice some just for fun. You can think about the competition later on after you get the mechanics of the game and start to control your ball well.
Your ball and swing are the two items which you need to control. In case you will neglect one of them, you will be easily eliminated. This is why you may have to get used to the game first. Then you can be sure that you will be addicted to this game.
As godmods we provide Wreckit.io mods to our visitors. It is possible for you to play the Wreckit.io game with Wreckit.io hacks by start playing on Wreckit.io unblocked servers.
.

LAST DOWNLOADS Wreckit.io MODS