,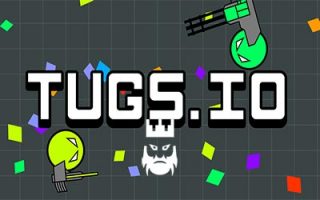 About Tugs.io
Tugs.io is a competitive and fast-paced io game where you have to eliminate your opponents to earn score.
Those who enjoy competitive games can play Tugs.io in their free times. You are going to control a character which has a weapon in its hands in this game. Players have to shoot each other in order to eliminate their opponents and earn score. This is a quite addictive game which we believe that you are going to love it. You can also collect the orbs on the map in order to earn extra score and shoot extra bullets.
We also share io games unblocked servers on our pages. You can download the mods for these io games through our pages as well. In case you are willing to explore new io games then you can check out the io games list we have shared on our website.
How to Play?
You are going to provide directions to your character with the help of your mouse. It is also possible to shoot with the left click of your mouse.
Tips and Tricks
You have to eliminate players in order to earn score. When you hit them they will leave a blood which is the same color with them. Thus, you can be sure that you hit them. There are also some orbs on the map that you need to collect.
Each time you collect these orbs you will earn score and your character will shoot randomly. This is why it will be good to collect them while you are fighting with your opponents. In this way, you will do more damage to them and eliminate them easily.
As godmods we provide Tugs.io unblocked servers to our visitors. You can download Tugs.io mods from our page and play the Tugs.io game with Tugs.io hacks.
.

LAST DOWNLOADS Tugs.io MODS