,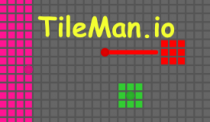 About TileMan.io
TileMan.io is a territory io game in which you'll conquer the land with your neon colors to become the best.
TileMan.io is one of the interesting io games. Access to all TileMan.io hacks and unblocked TileMan.io mods on godmods.com. Free to Play TileMan.io on godmods!. We advise you to visit godmods.com from time to time, because new hacks and mods or aimbots might be released for unblocked TileMan.io.
Can you control the largest area? Will you cut the competition off at the neck and steal their area? Do you have what it takes to become the ultimate: Tileman.io? Move fast and move smart. Use strategy to cut off your opponenet and steal their land. You are a noble neon dot in the grey grids of the future. Your only mission is to acquire territory by expanding out and circling back. Build yourself a mighty empire of glowing neon grids as you outsmart, out maneuver, and outlast your opponents. Move fast, move smart, and move to win!
Controls
Move: WASD or arrowsPause: E or PExit game: EscSkip death/Play: Enter
Touch controls and Numpad are supported too.
How to play
Use controls to move. If you hit your player trail, you will die. Other players can kill you too. Return back to your territory to remove your trail and expand your territory. Get more score from owning more tiles and from killing other players. Don't forget to defend your territory from other players.
Game modes
Normal modeNormal map size and speed.
Rats modeIncreased number of players and small map. For these reasons your territory is constantly attacked.
Extreme speed8 times faster players moving. You need some skill or luck to be successful here.
ArenaUltimate small map useful for fighting other players.
More game modes are planned in the future.
.

LAST DOWNLOADS TileMan.io MODS