,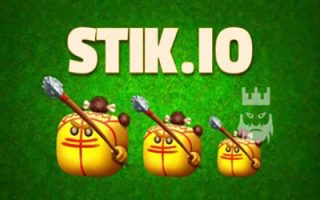 About Stik.io
Stik.io is a fun skill game where you are going to control a character with a spear in his hands.
In case you like to play fun skill games then you can play Stik.io in your free times. Every player will control the same square shaped characters however the game offers a great customization for the look of the characters. Of course, you need to earn some crystal in order to improve the look of your character, however, don't worry since the game itself provides you daily crystals. You have one mission which is eliminating your opponents. Your spear will grow in size as you kill your opponents.
We as godmods offer you different io games unblocked servers to download. It is possible for you to find them on the right section of each article on their game page. In addition to this, you can also explore new io games to play thanks to the io games list we have shared on our website.
How to Play?
You have to use your mouse in order to provide directions to your character. In addition to this, you can use the spacebar in order to speed up with your character.
Tips and Tricks
It will be a good idea to not rush when you start playing the game. Try to get used to the game which will take at most 5 minutes. Keep in mind that making maneuver is the most important thing that you should consider in this game.
In addition to these, players have limited view on their screen. This is why it may be a good idea to move fast and hit your opponents directly. In this way, only those players who have strong reflexes can avoid your attacks but you will eliminate the rest of them.
As godmods we offer Stik.io mods to our visitors. If you want to play the Stik.io game with Stik.io hacks then you can start playing it on Stik.io unblocked servers.
.

LAST DOWNLOADS Stik.io MODS