,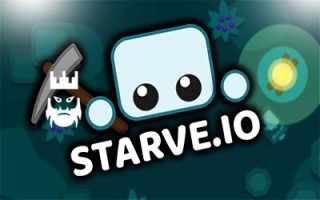 About Starve.io
Starve.io is a survival and building game where you need to gather sources in order to build things.
Those who like to play survival games can play Starve.io in their free times. You are going to control a cute character in this game and try to collect resources in order to build things. It may take some time for you to get the game but once you get it, you can be sure that you will be addicted to it. In fact, these types of games can be considered as a strategy as well because you need a good one in order to keep living.
We share io games unblocked servers on our pages. You can download mods from these lists. It is also possible for you to explore new io games thanks to the io games list we share on our website. Give a try to this game which we believe you will love it.
How to Play?
You need to control your character with the WASD keys on your keyboard. In addition to this, you have to use the numbers on your keyboard to choose items. Players will use the left click of their mouse to make selections, gather and attacks.
Tips and Tricks
In case you want to play the game for longer times and build things then you need to focus on collecting materials for yourself. Each time you make a progress in the game and kill other players you are going to earn a score.
In the night, you have to light a fire. You can also attack other animals on the map in order to gather resources fast. Make sure that you do not run out of your health or any other attributes. Otherwise, you will lose the game and have to start from the beginning.
As godmods we provide Starve.io unblocked servers to our visitors. You can download Starve.io mods and start playing the Starve.io game with Starve.io hacks.
.

ALL Starve.io MODS