,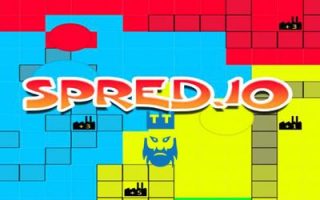 About Spred.io
Spred.io is an interesting game where you need to claim ninety percent of the map in order to win.
In case you like competitive games then you can play Spred.io in your free times. In this game, your main goal is to claim lands. You need to walk on them to claim them. In addition to this, it is possible for you to build walls for the lands you have claimed. Players also need to destroy their opponents as well.
godmods offer you io games unblocked servers on its pages. If you are looking for a mod for a specific game then you can find the list of them on the right section of each io game article. In addition to this, if you want to explore new io games then you can check the io games list we have shared on our website.
How to Play?
You are going to provide direction to your character with your mouse. In addition to this, you can fire food with Z key. Players can fire poison with X key, build walls with C key, destroy your own ball with V key and split with the spacebar.
Tips and Tricks
You will be competing with other players in this game. This is why you need to be careful all the time. In addition to this, you can choose one of the eight characters at the beginning of the game. You need to read their description well and choose the one which complies with your gaming style.
When you kill your opponents, you will receive their lands for yourself as well. This is why killing your opponents is very important. You may want to track your opponents and take them down while also claiming lands for yourself.
As godmods we offer Spred.io unblocked servers to our visitors. It is possible for you to download Spred.io mods and start playing the Spred.io game with Spred.io hacks.
.

LAST DOWNLOADS Spred.io MODS