.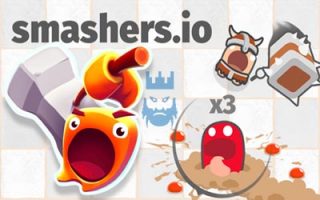 About Smashers.io
Smashers.io is a skill game where you are going to try to smash your opponents with the giant hammer you have in your hands.
If you enjoy playing skill games then you can play Smashers.io in your free times. You are going to control a cute character which has a giant hammer in its hands. Your goal is to locate your opponents and smash them with your hammer before they smash you. Players will grow in size and earn more score by killing more players. It is one of the funniest io games that you can play in your free times. You have to be really careful to not be eliminated.
Our website shares io games unblocked servers on its pages. If you want to download mods for the io games then you can find these lists in the right section of the articles. If you want to explore new io games then you can check the io games list we have shared on our website.
How to Play?
Players are going to control their characters with the help of their mouse. In addition to this, it is possible for you to speed up by pressing the W key. Players can hit with the left click of their mouse or the spacebar.
Tips and Tricks
You have to have strong reflexes in order to be successful in this game. In addition to this, you have to get used to the mechanics of the game in order to rank higher on the scoreboard. This is why you need to practice some.
Keep in mind that the only way to eliminate your opponents is smashing your hammer to their head. This is why it will be a good idea to speed up and reach your opponents. Then hit them with your giant hammer. You will kill more players with this strategy.
As godmods we provide Smashers.io mods to our visitors. If you want to play the Smashers.io game with Smashers.io hacks then you can start playing it on Smashers.io unblocked servers.
.
.
LAST DOWNLOADS Smashers.io MODS