,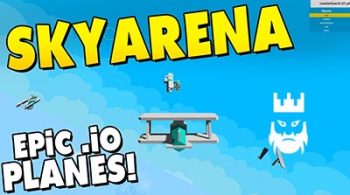 About Skyarena.io
Skyarena.io is a fighting game where you are going to fly and shoot with the planes.
In case you like games that take place in the sky then you can play Skyarena.io in your free times. Every player will be using a plane in this game. It will be worth to note that the game has pixel graphics. It is one of the best io games where you can control a plane. You need to act wisely in order to be successful in this great game.
We also share io games unblocked servers on our pages. You can download the mods for these io games through our pages as well. In case you are willing to explore new io games then you can check out the io games list we have shared on our website.
How to Play?
Your plane will fly automatically. All you need to do is provide the direction to your plane with the help of your mouse. You can shoot with the left click of your mouse.
Tips and Tricks
In case you will fly downwards then you will lose the game. Try to stay in the sky. You can make maneuver with the help of your mouse. Your main goal is to shoot and destroy other planes. However, this is not that much easy.
Because when you directly aim other planes, they will do the same thing to you. In this way, you will receive too much damage. This is why try to make maneuvers in order to avoid enemy fire. You may want to chase the planes to attack and destroy them easily. Always avoid face to face combats.
As godmods we provide Skyarena.io unblocked servers to our visitors. You can download Skyarena.io mods from our page and play the Skyarena.io game with Skyarena.io hacks.
.

LAST DOWNLOADS Skyarena.io MODS