,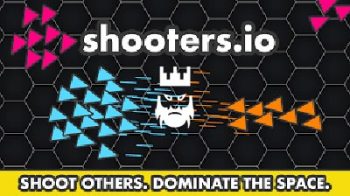 About Shooters.io
Shooters.io is a space game where you will add new ships to your fleet by destroying other ships.
If you like to play space games then you can play Shooters.io in your free times. You will start with few ships and you can earn bonus ships by eliminating your players or other single ships on the map. When you will receive damage, you will lose most of your ships in line with the damage.
In case you want to explore new io games then you can check our io games list in order to find more games. In addition to this, we also share io games unblocked servers on our pages. You can find the list of the mods on the right section of each article.
How to Play?
All you need to do is provide directions to your ships with the help of your mouse. Your ships will move automatically and it is possible to shoot with the spacebar.
Tips and Tricks
You can choose an option to shoot automatically. It is possible to find this option at the top of your screen. We highly advise you to set this option on in order to be more successful in the game. In this way, your ships will shoot all the time and all you need to do is provide directions to your ships.
However, if you are playing to be number one on the scoreboard then it will be better for you to shoot by yourself. In this way, you can arrange the timing and do more damage to other ships. You will earn extra ships for each ship you will eliminate.
As godmods we provide Shooters.io mods to our visitors. In case you want to play the Shooters.io game with Shooters.io hacks then you can start playing it on Shooters.io unblocked servers.
.

LAST DOWNLOADS Shooters.io MODS