,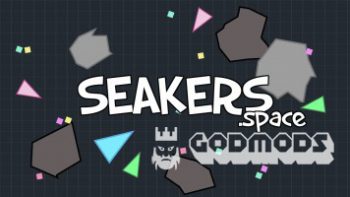 About Seakers.space
Seakers.space is a fun game which does not have any leveling, score or winning concept but fun.
Those who enjoy playing space and shooting games can play Seakers.space in their free times. Your adventure takes place in space and you will be controlling a spaceship. There is no concept in the game but having fun. This is why concepts such as leveling, winnings, score and so on did not include in it. In addition to this, you should not have high expectations in terms of the graphics of the game. You are going to control a triangle as a spaceship and your goal is to eliminate other players. Moreover, you can find different kinds of power-ups such as an auto assistant spaceship or teleporting.
Also, we also share io games unblocked servers on our website. You can find the list of the mods on the right section of each article. In case you would like to learn and explore new io games we have a great tool for this. We share io games list on our website where you can learn new games.
How to Play?
Players have to provide directions to their spaceship with the help of their mouse. You can also shoot by clicking and holding your finger on the left click of your mouse.
Tips and Tricks
There are not many things that we can say about the strategy in the game. Everyone is playing the game just for fun and we believe that you can have a great time by playing this game.
There are different colored dots on the map. You can collect them in order to have various power-ups which can help you to eliminate your enemies easily. You can be sure that you will be addicted to this game.
As godmods we provide Seakers.space unblocked servers to our visitors. Thus, it will be possible for you to download Seakers.space mods and play the Seakers.space game with Seakers.space hacks.
.

LAST DOWNLOADS Seakers.space MODS