,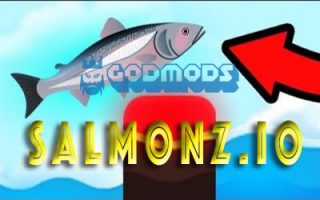 About Salmonz.io
Salmonz.io is a game where you are going to be salmon and try to reach to the safe area which is not easy.
In case you like to play skill games then you can play Salmonz.io in your free times. Each player will be a salmon in this game and they are going to try to progress by jumping from one area to another. However, it does not easy as it sounds because there will be bears and eagles which are ready to hunt you. This game is all about timing and positioning. In case you will adjust these well, you can rank higher on the scoreboard. First few pools are very crowded however you can find more room in the pools as you progress in the game.
We would like to note that we share io games unblocked servers with your visitors. In case you are looking for mods for a specific game then you can visit its page. You are going to find the list of the mods on the right section of each article. In addition to this, we also share io games list with you where you can explore new io games and play them.
How to Play?
You will be providing directions to your salmon with the help of your mouse. Your salmon can jump in the direction it looks when you click on the left click of your mouse.
Tips and Tricks
As we mentioned before this game is all about positioning and timing. You should position your salmon well before you jump to the next pool. However, this is not going to be easy since other players will be trying to do the same with you.
Before you jump make sure that there are no wild animals around. Bears may be located in the pools which you should avoid those pools in order to not be eliminated. You should also check the skies for the eagles which can catch you while you are on the air.
As godmods we offer Salmonz.io unblocked servers to our visitors. It is possible for you to download Salmonz.io mods and start playing the Salmonz.io game with Salmonz.io hacks.
.

LAST DOWNLOADS Salmonz.io MODS