,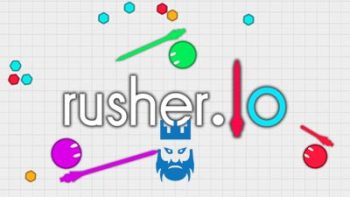 About Rusher.io
Rusher.io is a skill game where you need to hit your opponents with your sword in order to kill them.
Those who like games with high competition can play Rusher.io in their free times. It may take some time for you to get used to the game. Thus, you may get mad in your first attempts by losing all the time. But once you will get used to it, you can easily rock!
Our website provides io games unblocked servers to its visitors. You can find mods and hacks in the right section of each article. In case you are willing to explore new io games then you can check out our io games list as well. You can find games starting with that number or letter in each category.
How to Play?
Your character moves automatically go forward. You need to provide direction to your character with your mouse. In addition to this, you can speed up for a limited time with the left click of your mouse.
Tips and Tricks
Each character has a sword in their hands. The size of the sword will increase as you earn score. Moreover, players need to touch each other with their swords in order to eliminate each other. First of all, it will be better for you to collect as much score as you can from the map by collecting the balls. In this way, you will increase the size of your sword.
Then you may start to hunt down your enemies. Killing enemies will leave the score on the map and thus, these will be bigger balls with more score. You can turn around yourself in order to quickly touch your enemies to kill them.
As godmods we provide Rusher.io unblocked servers to our visitors. You can download the Rusher.io mods for this great game and start playing the Rusher.io game with Rusher.io hacks.
.

LAST DOWNLOADS Rusher.io MODS