,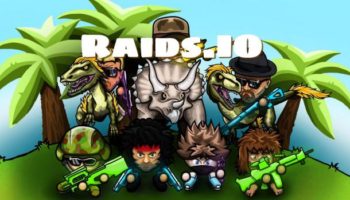 About Raids.io
Raids.io is a battle royale io game with the chance to ride magical reptiles.
Raids.io is one of the interesting io games. Access to all Raids.io hacks and unblocked Raids.io mods on godmods.com. Free to Play Raids.io on godmods!. We advise you to visit godmods.com from time to time, because new hacks and mods or aimbots might be released for unblocked Raids.io.
Experience chaos on a new level in this Battle Royale game inspired by Fortnite and PUBG. In raids.io not only are you fighting it out in a Battle Royale, but you're doing it while riding dragons, raptors, and more! Collect weapons and manage your health and other resources. You'll be going toe to toe with other players and trying to score the most kills while also hatching dinosaur eggs that will give you a random dinosaur to ride and play in the game.
Once you have unlocked a dinosaur you'll be able to weild heavier, more powerful weapons. The world of raids.io is a world of swift and brutal combat where you are rewarded for good instincts and a quick trigger finger. But you will also need to find and nurture dinosaur eggs with the intent of raising a mighty dino steed to help you take on the swarns of enemies. Can you survive on a prehistoric battle field?
Game Instructions / How to Play:
First find some guns by breaking chests, and a nest with an egg. It will take some time until your dino hatches. If you survive that long the real fight just started.Avoid the deadly zone that will make the map smaller and smaller.Collect equipment of the players you killed to upgrade.
Play with friends & more
The game offers duo and quad mode so you can invite your friends and hunt as a tribe.Unlock Skins and Emotes.Get your score on the leaderboard. There are 100 slots you can do it!
.

LAST DOWNLOADS Raids.io MODS