,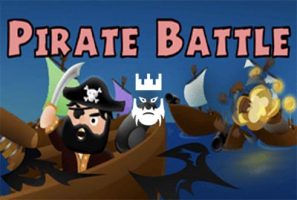 About PirateBattle.io
PirateBattle.io is a sailing game where you are going to control an upgradable ship and try to eliminate your opponents.
In case you like sailing games then you can play PirateBattle.io in your free times. In this game, you will be controlling a pirate ship which you can upgrade it. You have to collect the coins on the map in order to earn money and spend them to ship improvements.
We also offer io games unblocked servers on our pages. It is possible for you to find io games which start with the same letter with our category names. If you want to explore new io games then you can also check the io games list that we have shared on our website.
How to Play?
Your ship moves automatically and players have to provide direction to their ships with the help of the mouse. You will attack when you click on the left click of your mouse. It is also possible to speed up with the space bar. You can use the numbers on the keyboard to upgrade your ship.
How to Play?
You will be sailing on the seas with your ship. There are three types of coins to collect. These are gold, silver, and copper. Each of them will provide you a certain amount of score and money. It is possible to spend to the money you earn in order to improve your ship.
You have four options to upgrade with your money and each time you upgrade them, they will cost you more money to you. In addition to this, you can shoot and kill your opponents. When you do so, they are going to leave the gold in their place where you can collect it.
As godmods we provide PirateBattle.io mods to our visitors. In case you are willing to play PirateBattle.io with PirateBattle.io hacks then you can start playing on PirateBattle.io unblocked servers.
.

LAST DOWNLOADS PirateBattle.io MODS