,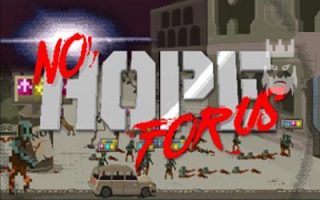 About No Hope For Us
No Hope For Us is zombie game with pixel graphics but it is quite fun to play.
In case you like to play zombie games then you can play No Hope For Us in your free times. This game has pixel graphics and it is very similar to tower defense games. You are located on the roof of a building and try to stop the zombies before they enter into that building. There are signs at the head of the zombies which you need to mimic them with your arrow keys to shoot and kill them.
We offer io games unblocked servers on our pages. You can download the mods for io games through our page. In addition to this, if you want to explore new io games then you are in the right place. We share io games list with our visitors. You can click on the categories and find the games starting with the number or letter.
How to Play?
You only need to use the arrow keys on your keyboard. But you will have to use them in combination to shoot the incoming zombies.
Tips and Tricks
You are trapped in a building in this game and zombies will be coming right to that building. You have to fire your weapon and eliminate the zombies before they reach the building. But you need to follow the combos on the head of the zombies to shoot them.
In fact, this game is similar to tower defense games. There are different directions on the head of the zombies and you need to repeat these directions with your arrow keys. When you successfully complete the combo, you are going to kill that zombie before it reaches the building.
As godmods we provide No Hope For Us unblocked servers to our visitors. In case you want to play the No Hope For Us game with No Hope For Us hacks, then all you need to do is download No Hope For Us mods.
.

LAST DOWNLOADS No Hope For Us MODS