,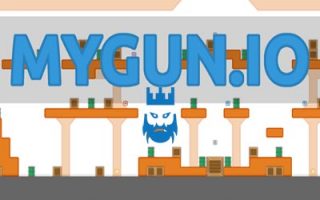 About Mygun.io
Mygun.io is a shooting game which has low graphics but that is quite fun to play in that map.
Those who enjoy playing shooter games can play Mygun.io whenever they want. This is one of the fun io games that you can play and it is quite addictive. You are going to control a character which has a gun and try to kill all of your opponents for the score. You can find new weapons and switch them while playing the game. The more players you will kill, the more score you can collect.
In case you are in need, we would like to share that we publish io games unblocked servers on our pages. You can find the existing mods for each io game in the right section of their articles. If you want to explore new io games to play then you can check out the io games list we have shared on our website.
How to Play?
You need to provide direction to your character with WASD keys. Moreover players have to shoot with the left click of their mouse. It is possible to throw a grenade with the E key and you can swap your weapons with the help of your mouse scroll.
Tips and Tricks
You will be randomly placed on the map and your goal is to collect the most score by killing your opponents. There are many crates on the map which you can not destroy. It will be logical for you to use them as a cover and shoot behind them.
You will earn headshot bonus in case you will hit your opponents from their head. Keep in mind that you have a limited grenade. This is why it will be better for you to use it in cases where you can kill multiple enemies. You can respawn quickly when you are killed.
As godmods we publish Mygun.io unblocked servers on our page. You can download Mygun.io mods and start playing the Mygun.io game with new Mygun.io hacks.
.

LAST DOWNLOADS Mygun.io MODS