,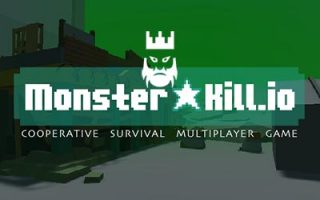 About Monsterkill.io
Monsterkill.io is a survival game where you need to kill the zombies coming in waves in order to survive.
In case you like to play survival games then you can play Monsterkill.io in your free times. You are going to control a character in this game and try to survive zombie attacks. There are ten waves on each level and once you complete all of these waves, you will start to play on the next level. The zombies will get stronger in each wave and level. Let's see whether you can survive this zombie attack!
We share io games unblocked servers on our pages. Also you can find the mods for almost all io games we share on our website. In case those games have mods, you can download them from the right section of the article. Also, we share io games list on our website where you can explore new io games to play.
How to Play?
You are going to provide directions to your character with the help of the WASD keys. In addition to this, you can shoot with the left click of your mouse.
Tips and Tricks
Players will be located on a map where they are going to face with zombie attacks in waves. You have an automatic rifle which has limited ammo. But it is possible for you to find ammo on the map as well as health packs.
In addition to this, you can find flamethrower on the map. This weapon does area damage and it will be better for you to get them when there are many zombies chasing you. In this way, you can benefit from the weapon in a better manner and kill more zombies.
As godmods we offer Monsterkill.io hacks to our visitors. You can download the Monsterkill.io mods from the Monsterkill.io unblocked server list to play Monsterkill.io game with hacks.
.

LAST DOWNLOADS Monsterkill.io MODS