,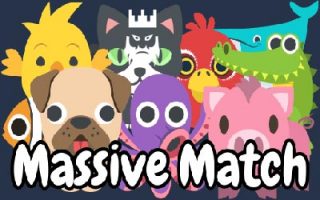 About Massivematch.io
Massivematch.io is a matching game where you are going to play together with other players for the same purpose.
Those who like to play matching games can play Massivematch.io in their free times. Unlike most of the other io games, you have to cooperate with other players in order to win the game. All of you will have 250 moves and you need to bring the four robot figures to the bottom of the map.
We provide io games unblocked servers to our visitors. You can also check our categories in order to find more io games with their mods. In addition to this, in case you want to explore new io games then you can benefit from the io games list we have shared on our website.
How to Play?
You have to use your mouse to play this game. Players need to click to the left click of your mouse and swipe it to the location you want. You can also zoom in and out with the scroll of your mouse.
Tips and Tricks
You are going to play together with the other opponents in this game. All of you will try to reach the same goal and you have to cooperate in order to do so. There are four robot figures on the map and you need to match other figures to bring them down.
You have to bring four of the robots at the bottom in order to win the game. Players can match at least three different figures in order to pop them. The area is huge and you can zoom in and out in order to take a general look at your progression.
As godmods we provide Massivematch.io mods to our visitors. If you want to play the Massivematch.io game with Massivematch.io hacks then you can start playing it on Massivematch.io unblocked servers.
.

LAST DOWNLOADS Massivematch.io MODS