.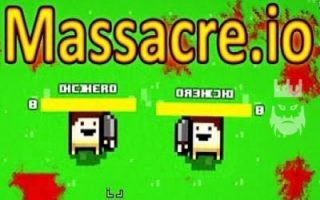 About Massacre.io
Massacre.io is an adventure game where you are going to play on a weird map and try to eliminate your opponents.
In case you like to play adventure games then you can play Massacre.io in your free times. You are going to control a man which has a knife in his hands when you start playing the game. Your goal is to eliminate the other players on the map. It is possible to find some weapons as well. You need an ammo in order to use these weapons where you can find them by exploring the map and killing other players.
We share io games list on our website in order to provide you the full list of existing io games. You can explore new io games through this list. In addition to this, we also share io games unblocked servers on our pages. You can find the mods of these io games on the right section of their articles.
How to Play?
You are going to provide directions to your character with the help of the WASD keys on your keyboard. You can also shoot or stab with the help of the left click of your mouse.
Tips and Tricks
You should act quickly when you see an opponent to kill. In addition to this, we do not advise you to join an ongoing fight. In this way, you are going to receive too much damage which will make you vulnerable to other opponents.
Instead of this, stay close to them and wait towards the end of the fight. While one of the players is about to die, you can join the fight and kill both of them. Even you can't kill both of them, you will kill one of them with less effort.
As godmods we provide Massacre.io unblocked servers to our visitors. It is possible for you to download Massacre.io mods and start playing the Massacre.io game with Massacre.io hacks.
.
.
LAST DOWNLOADS Massacre.io MODS