.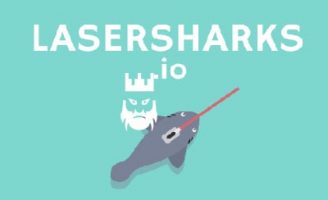 About LaserSharks.io
LaserSharks.io is a game where you are going to control a shark with a laser beam and try to eliminate other players.
If you like typical io games then you can play LaserSharks.io whenever you want. In this game, you are going to control a shark which there is a laser beam installed on it. You have to eat fishes in order to level up. Each time you level up, your health will increase by a small amount as well.
You can find io games unblocked servers in our pages. Thus, you can download mods for different io games. You can also benefit from our io games list in order to explore new io games to play.
How to Play?
Your shark will be moving automatically and you need to provide direction to it with your mouse. You are going to speed up when you click on the left button of your mouse. It is possible to shoot your laser with the space bar.
Tips and Tricks
In this io game, you do not grow in size but there is a leveling concept in the game. Your health will be fulfilled each time you level up. In addition to this, your health will increase slowly as you swim. You need to eat fishes on the map in order to level up.
You can also eliminate other players with your laser. However, it will be worth to note that you do not shoot your laser as soon as you fire it. There is a brief delay for your laser. This is why try to aim the one second future of your target in order to hit them.
As godmods we offer you LaserSharks.io mods on our website. In case you want to play the LaserSharks.io game with LaserSharks.io hacks then you can play it on LaserSharks.io unblocked servers.
.
.
LAST DOWNLOADS LaserSharks.io MODS