.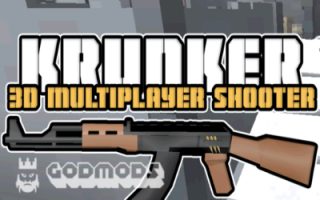 About Krunker.io
Krunker.io is first person io 3D shooter. The most significant thing about this game is that it's released by Sidney de Vries, developer of exiting Moomoo io and Foes.io.
Krunker.io is the cartoon first person shooter in which you are thrown into the boots of a pixel soldier in the midst of battle. Use your warfare tactics and sharp shooter aim to defeat all of your enemies on the battle field. Watch cool animations appear on screen as you kill enemies and gain score points.
You have a selection of up to 5 characters to choose from to take into battle. Jump in to an online multiplayer game and prove you are the ultimate solider. For added fun get out your spray gun and spray paint on walls or your enemies! Have fun!
There are Krunker.io unblocked and Krunker.io Mods as well in which you will be able to have different features. These are also known as Krunker.io Hacks
How to play Krunker io?
The goal of the Krunker io is just the same as for all similar games. You keep fighting till the end of the round. The one who has maximum points by the end wins. Game contains AI bots that are quite strong, be careful and try to avoid them. Let other fight with them.
Gray boxes are ammo. Get close and press R to reload the gun. Play online:https://godmods.com/krunker-io/
Tips and Tricks
Things like story and character aren't important to .io games by and large, and Krunker.io continues this venerable tradition. In Krunker.io, you are a person with a gun, and you must fight other people with a gun until your score is higher than theirs. This oversimplification isn't intended as a criticism, though; it's quite nice to go into a multiplayer experience where the goal is simply to win, and there aren't any extra objectives for one's team to completely miss (lookin' at you, Overwatch).
In case you are looking for mods, you do not have to download Krunker.io mod since ss god mod, we offer unblocked Krunker.io servers to our players which are also known as Krunker.io private servers. The games you will play on our servers offer all new features included into the game.
What you do get is two modes to choose from (Team Deathmatch and Free-For-All, which are both fairly self-explanatory), as well as several character classes to specialise your play style. These character classes are a carry-over from Sidney de Vries' previous title Vertix.io, so it could be said that Krunker.io is kind of a sequel (as we've said, though, you don't need to worry about the story or anything, so you can obviously go into this one blind).
We're hard-pressed to think of a criticism for Krunker.io, if we're honest. For what it is, it delivers a consistently satisfying and fun experience that's easy to get into and hard to master. The game has full mod support, too, so if there's anything you think is missing from Krunker.io when you play it, it should be fairly easy to remedy this if you're of a technical mind. Krunker.io is a surprisingly accomplished shooter with a nice, simple feel and a wealth of classes to sink your teeth into. Give this one a try and we guarantee you won't be disappointed.
As godmods.com we provide Krunker.io unblocked servers to our visitors. Thus, it will be possible for you to download Krunker.io mods and play the Krunker.io Game with Krunker.io Hacks.
.
LOAD MORE